Get link

Facebook

Twitter

Pinterest

Email

Other Apps
My family's cooking style evolved from the traditional American big hunk of meat main dish with little sides of vegetables and potatoes to a formula of lots of vegetables, a starch, and a protein as more of a condiment than the star of the dinner recipe show. We started with Asian flavored stir fry meals being heavily influenced by my trip to Japan and Hong Kong and grumbling bellies demanding a quick dinner ASAP after getting home from work.
We quickly learned that by just switching up the spices and often the starch (
rice noodles like these cook in 5 minutes flat!
,) brown and white rice, regular and whole wheat pasta, sweet and white potatoes) we could travel the world through our dinner tables using the same main ingredients. Cheaply and healthy and getting a gold star from my doctor when I gave her my food diary.
(Disclosure: I am including some affiliate links in this post for your convenience.)
Not to mention, just using a handful from several bags of fresh and frozen vegetables in a stir fry makes them last longer than dumping the whole bag in a pot and serving it as a side dish (although I still do that from time to time.) The same thing goes for meat – or if you're running low on meat to make a full meal for a group you can always add beans, nuts, or tofu to bump up the protein content, serve it on a bed of rice, and Bob's your uncle.
I accidentally started saving more money on our grocery bill when I started reading the weekly grocery sale flyers like a magazine each week and buying my fresh fruits and vegetables according to what is on sale which is - guess what! – shopping and cooking according to the national growing season and super cheap.
S
ave this list of dinner recipe ideas to your Pinterest boards for later! Share it with your friends!


11 Dinners to Make When There Isn't Any Food in the House
These recipes are very flexible because they evolved from food we had on hand, leftovers we reinvented because they had to be eaten, or stuff we just like to eat (see the Ham and Cabbage recipe below. I will face plant in that no matter what the pantry situation is in the house. Nom!)
- This recipe will feed an army quickly and cheaply! I usually make this recipe with pork free turkey ham (
learn more about turkey ham here
) when we want a lower cholesterol meal or don't eat ham.
- A yummy slow cooker recipe that really hits the spot on cold winter days!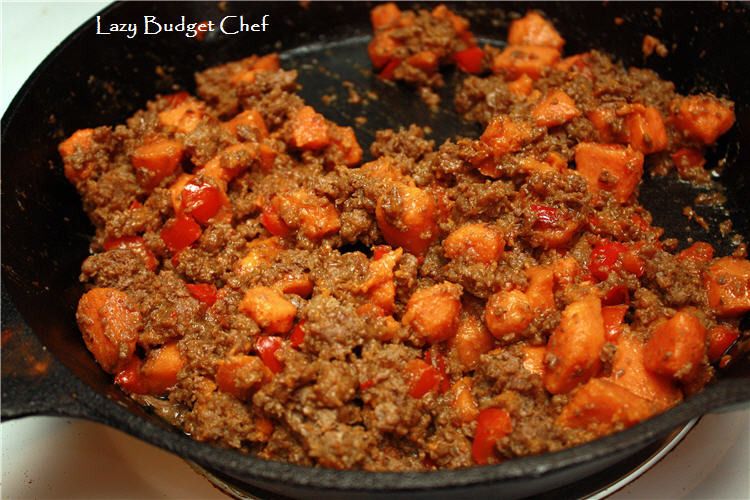 – this is one of my favorite lunch recipes and is very easy to stretch to more than one person by treating the tuna fish as a condiment and adding more vegetables and pasta instead of the fairly equal amounts listed in the recipe.
– You can add more water to this recipe to create a less thick broth and to streeeeetch the amount it makes to feed a crowd or get more than one meal out of it.
– Feel free to swap out the summer vegetables I have listed with your favorite in season vegetables for even more delicious savings. You can add a cup of cubed chicken, ham, or pork to use up or stretch any leftovers.
– you can make this recipe with chicken too!
– this easy recipe gives options to mix and match whatever ingredients you already have on hand to make a healthy and filling dinner! If you don't' have an Instant Pot, you can use a slow cooker or kick it old school with a pot on the stove.
Looking for more quick, healthy, and cheap recipe ideas? Check out the following - and more! – below!
Did you like this post? Get more like it by
subscribing to the Lazy Budget Chef RSS feed
or by
subscribing to Lazy Budget Chef by email
.