Fall means football and football means it is time to tailgate before, during, and after the game!
Like many parts of the country, tailgating in Columbus is an art form. It is always fun to walk the parking lots before an Ohio State game to people watch. Buckeye fans go all out! It isn't unusual to see a motor home painted with an elaborate Ohio State scarlet and gry paint job that people use just for tailgating. That's why
Tailgater Magazine ranked Ohio State number 8 on its Top 20 Tailgate Colleges
this year.
Another reason why I think tailgating so popular here is that get tickets to an OSU game is hard because the games sell out quickly. On the rare chance tickets are available they cost crazy money! S
My Top 23 Tailgating Must Haves
So you see tons of people watching the game on TVs in the stadium parking lot during the game. If the game is only available on cable, you will see portable satellite dishes like the
Winegard Carryout Manual Portable Satellite TV Antenna
.
It seems a bit extreme to me (then again, the half time show is my favorite part of football and they don't show that on TV) but the gadget girl in me thinks it is cool just the same. This portable dish is compatible with DISH (SD and HD), DIRECTV (SD) and Bell TV (SD and HD.) The base can be filled with water or sand for stability and it includes 25 foot coax cable
I suppose you can use it to watch TV when you are camping too.
I am including affiliate links in this post for your convenience.
These kooky Tailgaters' Hammocks scream SERIOUS TAILGATER. They are so fun I had to include them in this roundup. The Hammaka Chair set comes with a trailer hitch stand that attaches to a truck or RV.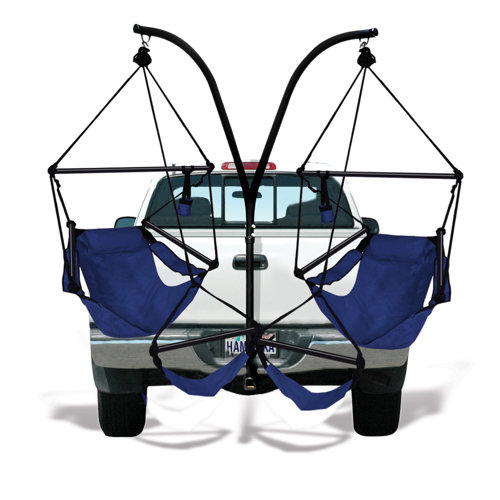 I want to back these up to a lake and use them for fishing.


The
Backpack Cooler Chair
is the mother of all folding tailgating chairs! It has a molded cup holder in the attached table tray and shelves, a detachable 24-can insulated cooler with multiple pockets, 2 sturdy fabric loops on back of chair to secure an umbrella or sports banner, and it can be carried to and from your tailgate like a backpack.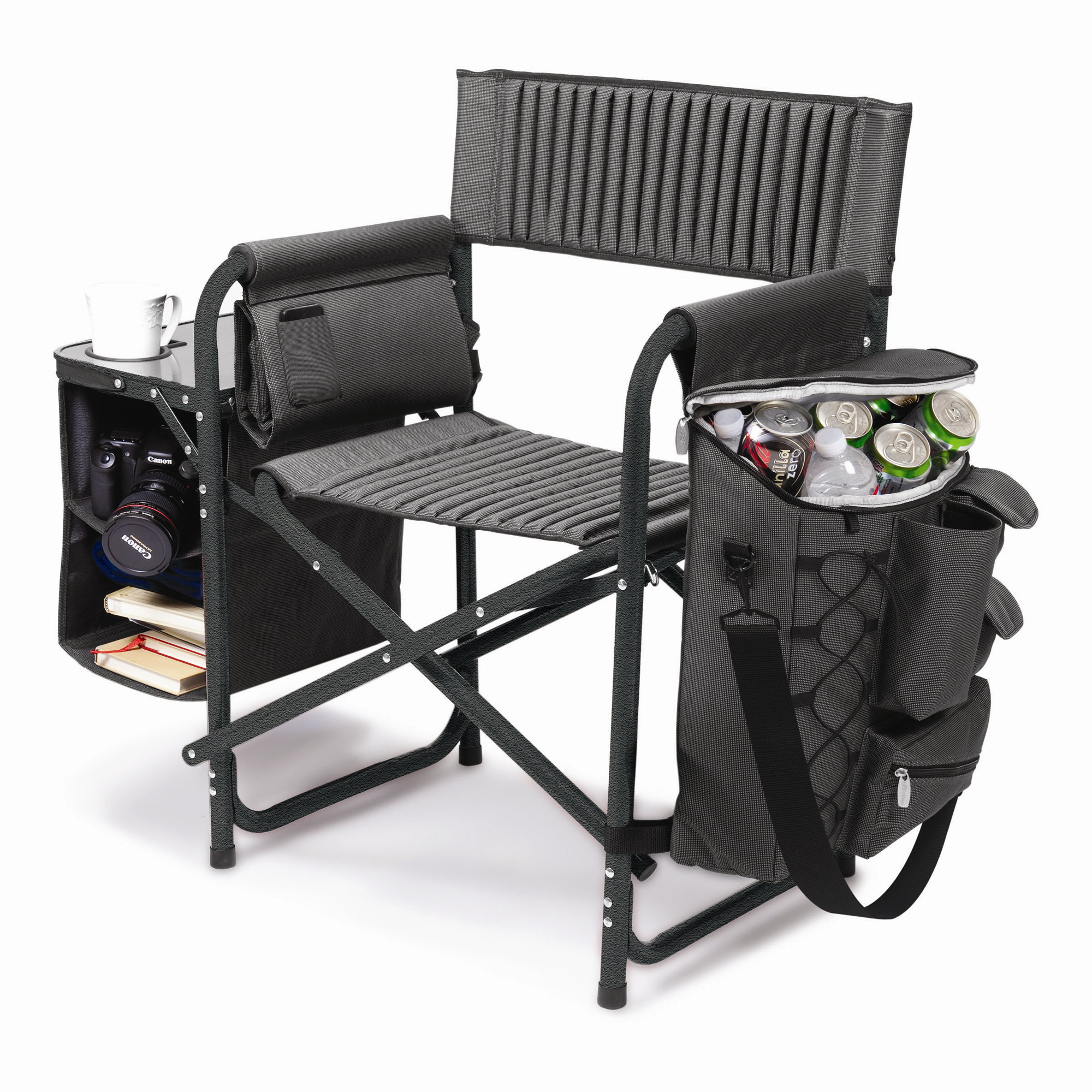 This chair is the ultimate camping out while standing in line for days chair.
You will probably get thirsty during your football party. What better cooler to hold tailgating drinks than this
Football Picnic Cooler
?
Are you ready for some football (shaped cooler)?


Why go to the drink cooler when you can bring the drink cooler to you? The
Remote Controlled Rolling Beverage Cooler
holds up to 6 drinks and ice and features a fully functional remote control to deliver drinks indoors and outdoors.
I'd buy two and race them up and down the parking lot NASCAR style.


Now if you
really
want to cooler race (or not want to lug your cooler long distances) the
Electric Cruzin' Cooler
turns a 50 quart ice chest into a motorized scooter complete with steering, disc brakes, foot pedals, and a cup holder – of course. It can carry 24 beverages plus riders up to 250lbs.
You will have to make your own beep! beep! noise to tell people to get out of your way. The scooter cooler doesn't have a horn.


Or you spiff up a cooler you already have Learn how I did that in my
tutorial How to Decorate and Decoupage a Cooler
. You can easily decorate your cooler with your team colors and mascot or add your name like I did.
We take this cooler everywhere! It has logged more miles than all of our cars combined.
You can't tailgate without can koozies. Why not make Uncommon Designs
Astro Turl Tailgating Coozies
?
Question: Is it can Koozie or can Coozie? Let me know in the comments below.


Most stadiums and parking lots won't allow glass. If that is the case and you are serving adult beverages (if allowed), I highly recommend these insulated wine glass tumblers. I have a set. They live in our picnic basket and we use them for all cold beverages, not just wine.
If you are more of a beer person than a wine person they sell
Double Wall Insulated Acrylic Beer Tumblers
too.
I personalized my wine glass tumblers to make sure they will always come back home. Learn how I
Decorate a Plastic Wine Glass Tumbler here.
My personalized wine glass tumblers make great gifts too!
Tailgate Atmosphere and Décor
You need an awning to protect you from the elements or at the very least make it easier for friends to find your tailgate. I like the
Ez Up Canopy
because I can put it up and take it down myself if needed.
It is also a good way for friends to find your tailgate.


To keep your canopy from blowing away on a solid parking lot add weights to the poles. Both of these canopy weights work well:
If you ever had an awning fly away in the wind, you will love these weights!
For more Extreme Tailgating fly your team flag high with the
Flagpole To Go 20-Foot Portable Flagpole
which attaches to your car.
Another great way for friends to find your tailgate!
5 Outdoor Tailgating Games
You probably want something to do after you eat and before the
halftime show
game starts. Corn hole is a tailgate MUST. Show your team spirit by sporting your favorite team on this
NFL Tailgate Toss Game
Into college ball? I got ya covered with the
NCAA Tailgate Toss Shield Game
Go Bucks!


More of a Do It Yourselfer? Me too! Learn how I make corn hole boards using my
DIY Cornhole tutorial here.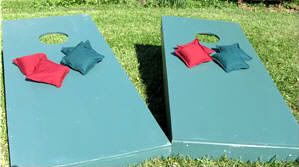 I teach you how to make corn hole bean bags too.


If you need something smaller than a regulation cornhole set, try these washer and bean bag toss games. Again, they are available for
Sorry I couldn't find a DIY version of the washer toss game.
I can't leave out the most important part of the tailgate –
the food!
Nothing says serious football and grill fanatic like a
Portable Charcoal Football Grill
especially if your football shaped grill matches the above football shaped cooler.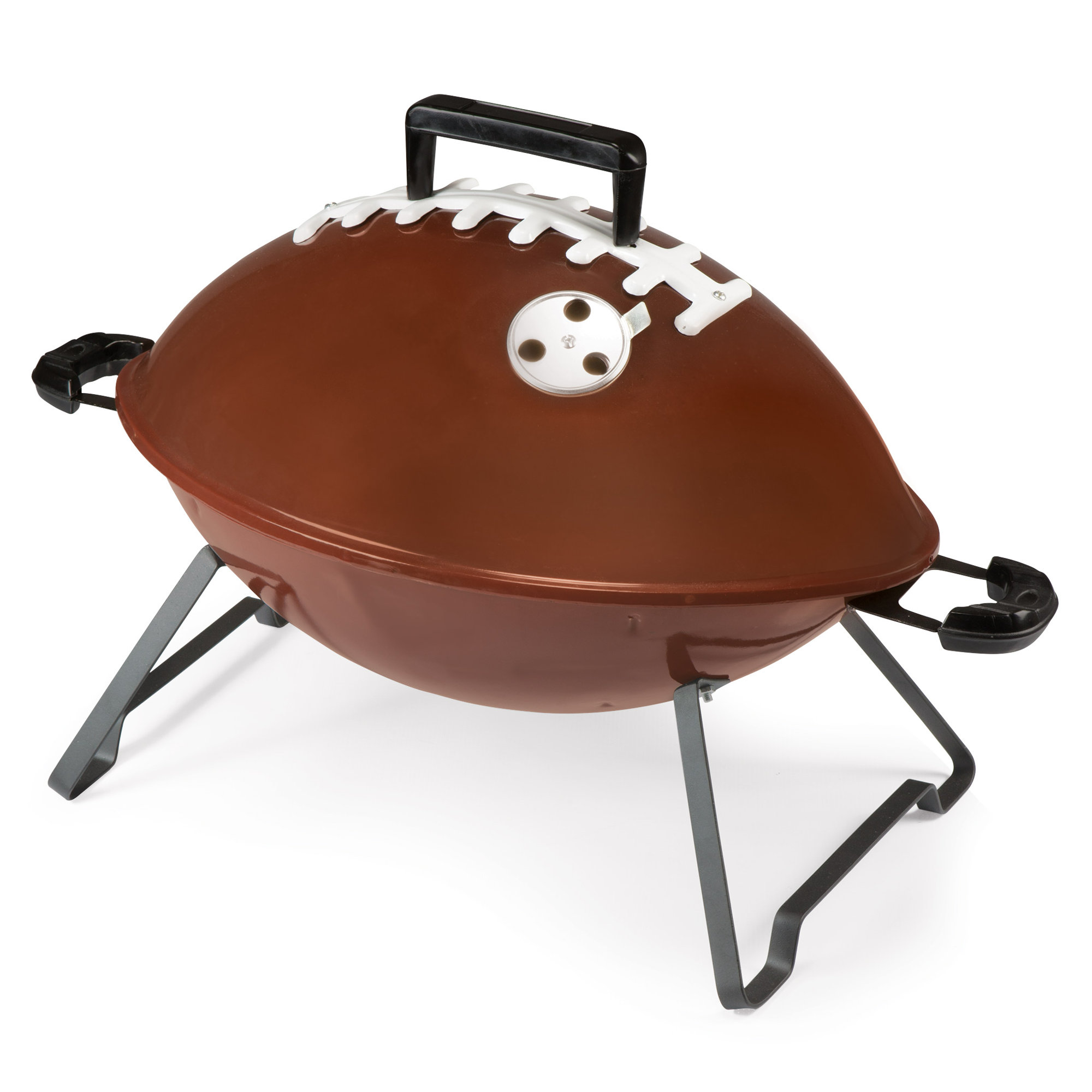 I know I guy how has one. His football grill makes great burgers!
If you aren't allowed to have charcoal grills at your stadium, I recommend the
Coleman Road Trip Grill LXE
. This 36-inch collapsible propane grill has 285 square inches cooking space. The grill features porcelain-coated cast-iron grates for easy cleaning, a towing handle, wheels, and two detachable side tables.
The Coleman Road Trip Grill is great full time for people who live in condos or have small patios like I do.


Make food ahead of time and take it to the tailgate in the
Hamilton Beach Stay or Go Portable Slow Cooker
. The lid clip allows you to transport it to the tailgate without worrying about the lid coming off and food sloshing out all over your car on the way to the potluck or tailgate.
Hamilton Beach has solid color slow cookers too but since this is a post about tailgating, I'm featuring the football field slow cooker.


Now that we have food and drinks, you need something to serve from. You can use the
GoBar Portable High Top Party Bar
as a serving table or a bar or both. The GoBar Tailgate bar folds and fits in the included case. It measures 39 x 36 x 15 inches (W x H x D) when open. It comes with 3 interchangeable skirts (Tiki, Football, and Formal) and has a hidden storage shelf in the back for extra snacks and such.
What are your tailgating must haves?
Did you like this post? Get more like it by
subscribing to the Lazy Budget Chef RSS feed
or by
subscribing to Lazy Budget Chef by email
.